previously asked about
, here's Batgirl Adventures
#1
, featuring Batgirl and everyone's favorite femslash-tastic duo, Harley and Ivy!
http://community.livejournal.com/scans_daily/6854871.html
I really like that cover.
I have to skip half the issue, so here's a summary of the first part: Barbara Gordon, secretly the amazing Batgirl, is on her way to Gotham PD Headquarters to meet her father, Commissioner James Gordon, for the holidays. She spots Harley Quinn outside, who launches herself to the roof. Barbara changes into Batgirl and confronts Harley, who is messing with the Bat-signal. Harley leads Batgirl on a not-so-merry chase through Gotham, causing lots of havoc and seems to get away.
Babs has been taking some more lessons from Bruce, it seems.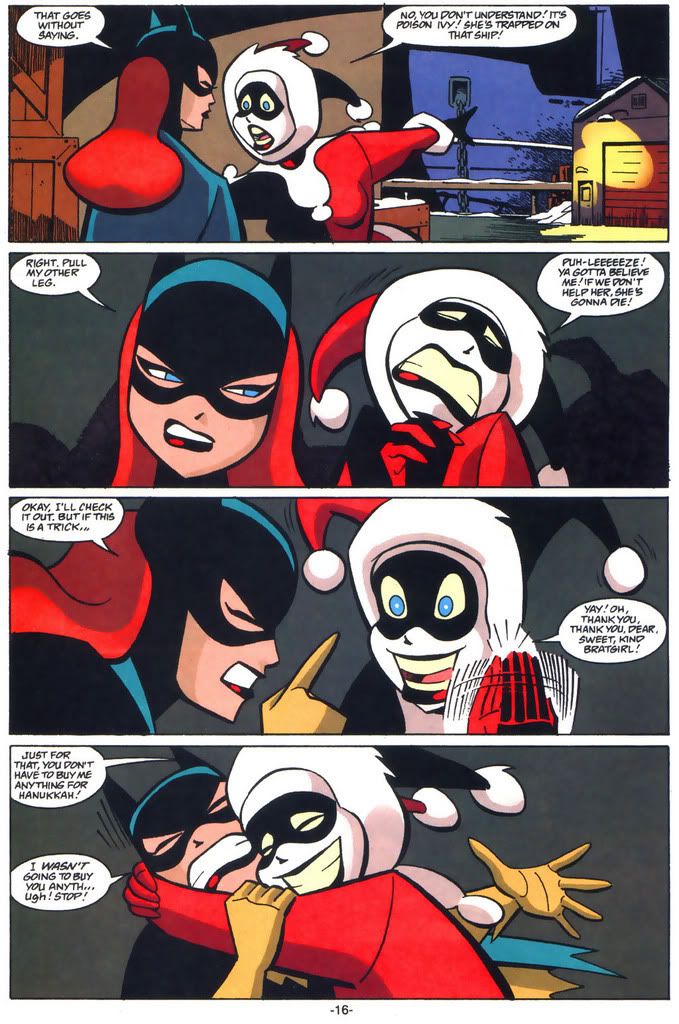 Inside, three female terrorists have Ivy tied to a chair and try to convince her to join their team. Ivy refuses because of what they did to Harley. They don't think think their "demonstration" was big loss, but Ivy does, of course. "She was my friend, and more important to me than you'll ever know." After more threatening, Ivy pretends to give in, then spits something in the leader's face.
And here's the page everyone is looking forward to:
No matter how many times I see it, that never fails to make me laugh. Heh.
I'm still disappointed that the extended Bat-family never got to show up in JLU, aside from the rare cameo. Some BoP or more Supergirl/Batgirl "team-ups" would have been really nice.
They terrorists finally break into Ivy's laptop and get ready to kill her. Batgirl identifies the leader (Harley calls her "Fox Lady" or "Foxy") as Kit Nozawa, a top-level Yakuza assassin that Batman once went up against, who seems to be in business for herself now. Harley tells Batgirl how the group showed up at their apartment and tossed Harley out the window. Fortunately, she snagged the fire escape before she became street pizza and followed them.
I just love Harley's hopeful/pleading look. Babs is such a sucker for a pretty face. And woo, Bat-bondage!
Batgirl tosses down some gas pellets and starts to fight, but gets blinded by Fox Lady.
Where exactly was Harley keeping that? And it seems Babs has been taking lessons from either Matt Murdock or Toph as well.
Okay, so I mostly posted that page for the Harley-butt. Sue me. And notice how Ivy's sitting...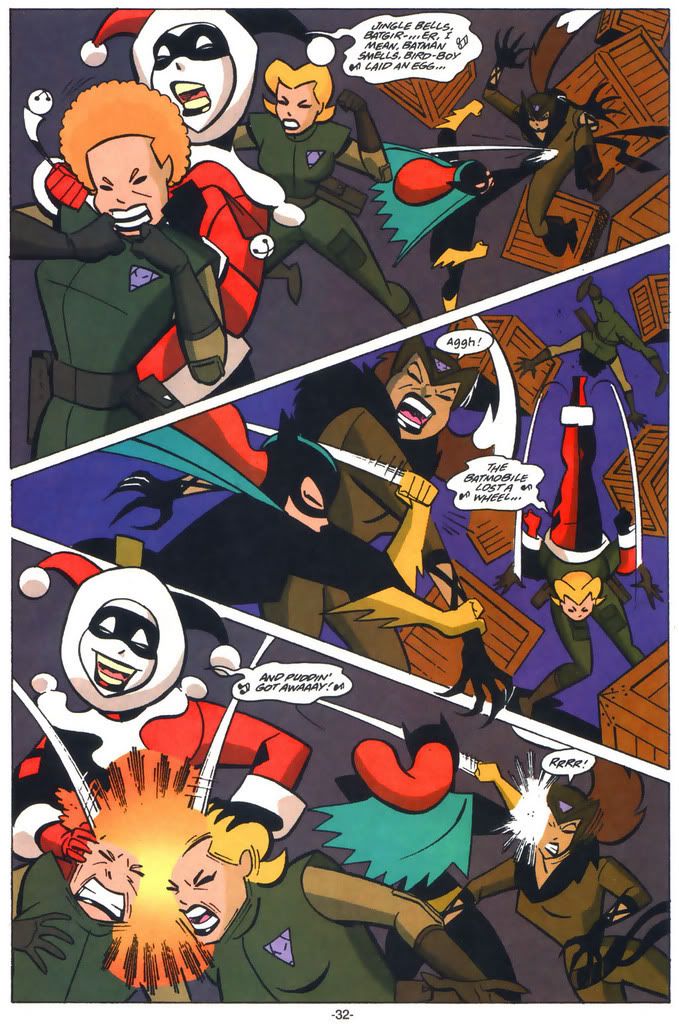 I love Harley singing during the fight. She's pretty good at that, isn't she. And she
has
appeared on one of the "Battle for the Cowl" covers, hasn't she?
Woo, more bondage!
Wouldn't the fact that Harley's wearing her costume be enough to hold her for a little while? I would assume most psychiatric institutes would make their supervillain patients agree to not wear their costumes anymore if they were released, but this is Arkham we're talking about.
Harley's awfully clever here, isn't she. She and Spider-Man are a lot alike, they act stupid/immature so often as part of their costumed thing, other people forget they are actually very smart.
And the commissioner is left waiting some more for Babara. Awww.
Happy Non-Denominational Gift-Giving Winter Holiday everyone!
Since it's Christmas, and this was